Benefits of Proof of Work(POW)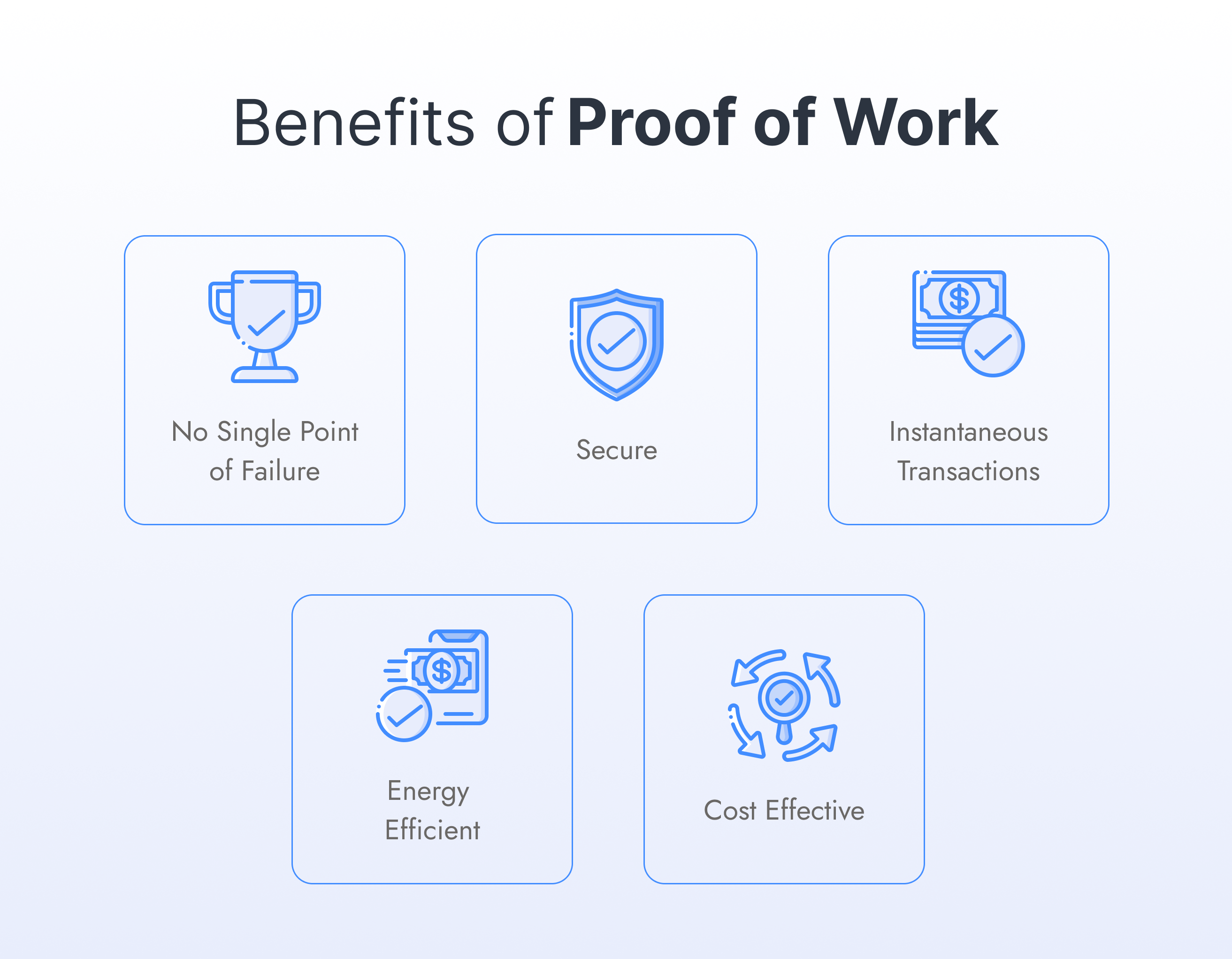 Proof of Work(POW) is a consensus algorithm requiring participants to solve a computationally-intensive problem before they are allowed to participate in the network. This ensures that only participants with real computational power can participate and make decisions. The benefits of Proof of Work(POW) include the following:
The main benefit of POW is that it is not vulnerable to any single point of failure. This means that the system cannot be hacked or attacked by any individual, group, or entity. The security of each node in the network is guaranteed by the work done by all other nodes. There is no need for any central authority to manage and maintain the system. POW is a decentralized mining system, which means that if one machine goes offline, the network will still be able to process transactions. This is unlike other Proof-of-Stake (PoS) cryptocurrencies, where the network would stop working if one node went offline.
The most crucial benefit of POW is that it allows you to build a system that works even if one or more computers fail. For example, the new computer can still run if one computer crashes and another takes over. This means that a blockchain is not vulnerable to a single point of failure like traditional databases are.
The main advantage of Proof of Work(POW) is that it offers complete security and privacy protection to users from various threats such as hacking, theft, or data loss. A hash algorithm has been used for generating blocks and verifying transactions on a blockchain network. In other words, users can send bitcoins without worrying about getting them stolen or lost forever. The miners who validate transactions on the blockchain are the only ones who get rewarded with new coins.
Since they can't cheat or steal your coins, you are safe from hackers who might try to steal your coins by hacking through your wallet software or exploiting bugs in your CPU/GPU. A blockchain has no central server that can be hacked and taken down. This makes it much more secure than databases because there is no central point where all information is stored. If someone hacks into the database server, they still have access to all data stored on it as long as they don't delete any files or corrupt them somehow. With a blockchain, if someone hacks into one node, they won't be able to access information from anywhere else connected to it.
The main benefit of Proof of Work(POW) is that it allows instant transactions between parties without requiring third parties like banks or governments to facilitate such transactions. Users can directly transfer money from one party to another without involving any third party. Another benefit of using POW instead of SQLite (or some other database) is that transactions are processed instantaneously. This means that you don't need to wait for your transaction to go through before doing anything else, and it also allows you to process transactions faster because they're not waiting on each other. It does not require anyone to trust any centralized entity with their money or information. It also provides instant transactions instead of waiting days for confirmation before spending your funds.
Blockchains are energy efficient because they use a proof-of-work (POW) mechanism to validate transactions. This mechanism requires miners to expend computing power for the Proof of Work (PoW) algorithm, which is why Bitcoin and Ethereum have such high fees. POW is also known as "mining." PoW is energy efficient because it does not require any special hardware and does not need special software. It runs on many computers at the same time. It is more decentralized than other consensus algorithms, such as Proof of Authority (PoA).
In PoW, miners compete with each other to solve complicated mathematical problems. The first miner to solve it gets rewarded with the block reward and transaction fees from the new block. This incentivizes miners to expend more computing power on the network, making it more secure for users. It is cost-effective because you can use your computer's processing power to solve problems instead of buying expensive hardware or renting servers from third parties. You can also use your idle computer's resources to mine cryptocurrencies without paying electricity bills or renting servers from third parties.